Exploration of World Religions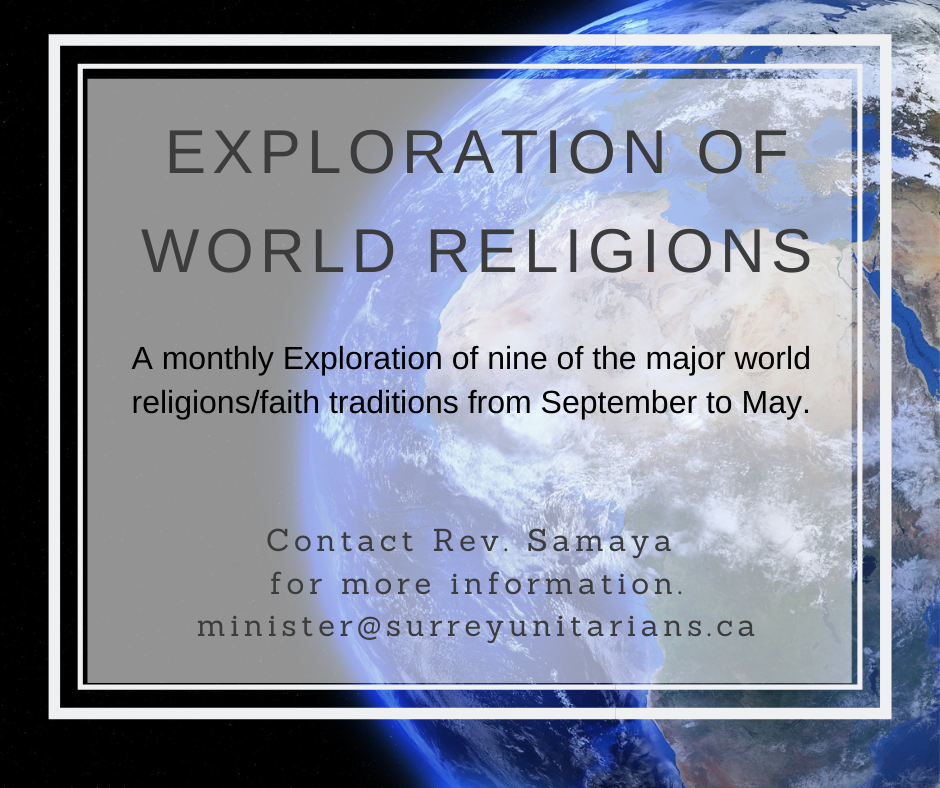 In a unique partnership between South Fraser (SFUC) and Calgary Unitarians (UCC), the Revs. Debra Faulk and Samaya Oakley, and UCC member Lynn Nugent, are pleased to offer an exploration of nine of the major world religions/faith traditions this coming year – from September through to May. There will be a monthly Sunday service with a speaker from the featured tradition as well as supplements in the Reflections/Soul Matters theme guides so everyone will be participating at some level.
Together we'll be exploring:


September – Judaism
October – Wicca
November – Hindu
December – Christianity
January – Bahai
February – Buddhism
March – Sikhism
April – Islam
May – Indigenous Spirituality
Those registered for the program will have the opportunity to dive more deeply during two monthly sessions 1 st (except September 8 th ) and 3 rd Tuesdays 6:30 – 8:00 Pacific.
Session One (1 st Tuesday) will be a deep look at the tradition, mostly informational with some discussion;

Session Two (3 rd Tuesday) will be more reflective and interactive. Session One will
be recorded and available for participants to watch prior to Session Two if you are unable to
attend.
Please note that there will be a limited number of participants so register soon – simply click on the World Religions Exploration Program link: World Religions Exploration Program.
As there are significant expenses for the resources being used, we are asking for a free-will donation of $10.00 per session/$180 full program on a sliding scale basis.
We suggest you use the CUC's green bottle sliding scale model to determine your contribution. Subsidies Sliding Fee Scale