Minister's Column
A Blessing for the Summer
To say that this coming year will be a summer that will be unlike any other we have experienced in our lifetimes (for most of us), is an understatement. As I prepared to write this column, I began to wonder about the message I wanted to share with you as your minister as we end this very strange church year and move into a time of respite, of embracing at least the part of our transcendentalist roots that focus on nature. The answer came clear to me as I looked at our Soul Matters packet on what it means to be a people of blessing. It's known by a few titles: a Franciscan Benediction, or "Four-Fold Benedictine Blessing", or "A Franciscan Benediction". This was written by Sister Ruth Marlene Fox, a Benedictine nun, for a student group she led in 1985. It's actual title is a "Non-Traditional Blessing", and it seemed fitting that I offer them to you at these very non-traditional times as a blessing to move into our summer months with. Sister Ruth's words are in italics, and I've added to them with my own blessing to you.
May God bless us with discomfort
At easy answers, half-truths, and superficial relationships
So that we may live from deep within our hearts.
May you be blessed with time with loved ones over these hazy, dazey, warm days of summer that seem to stretch on forever. May you be blessed with time spent in connection with those whom you love – the kind of connection that reaches into the depths of your soul.
May God bless us with anger
At injustice, oppression, and exploitation of God's creations
So that we may work for justice, freedom, and peace.
May you be blessed with eyes that begin to see the injustice that exists all around us. May you be blessed with a heart that opens to anger at the incidents of racism, intolerance, and fear that keep so many people's hearts closed. May you be blessed to see your inner beauty and the inner beauty that lives within each living being in creation.
May God bless us with tears
To shed for those who suffer pain, rejection, hunger, and war,
So that we may reach out our hands to comfort them and
To turn their pain into joy.
May you be blessed with a heart that is open enough to weep at the pain in the world. May you be blessed with hands that become active agents of comfort and compassion. May you be blessed to see your reflection in all of those who suffer in your lives so that our hands are able to provide comfort and compassion.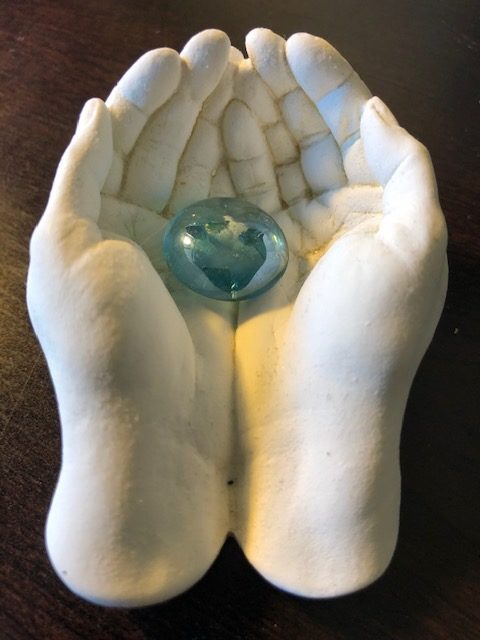 ---
Why I Come to Church?
Do you feel passionate about coming to church and want to share a brief message with everyone in the community about it? Starting in October, we'll be adding a new element to our Sunday services where you can share a brief (2-300-word maximum) message about why you come to church. Please contact Rev. Samaya if you have questions, would like to sign up, or would like more information.
When to Call the Minister
Many people wonder when it's appropriate to call the minister to deal with pastoral care concerns, particularly with such an active caring community such as SFUC and with a three-quarter-time minister. Samaya is available to meet with you in times of difficulty for pastoral guidance visits at a coffee shop, at a hospital, or in your home. Her visit with you would typically be for short-term sessions of listening, support, and spiritual guidance. If longer-term conversations are needed, she would be happy to refer you to someone with skills in the area needing assistance. For more information please contact us.
Services Available from Your Minister
Child blessings, dedications, coming of age celebrations, saging rituals, home blessings, pet blessings, renewal of vows – all of these things share a common element: services available from your minister. If you're interested in any one of these rites of passages, please feel free to contact Rev. Samaya.
What to Expect from Your Minister
As part of the ongoing information about what you can expect from our minister, please know that when you visit our minister for pastoral conversations, you can expect that your conversation will be held in confidence. What you share will not be shared with any other person without your express permission. Our minister will encourage direct communication to resolve issues you have with other people.
Samaya's Office Hours:
Rev. Samaya's office hours are for those of you who are in the area and can drop by and visit with her about what's on your heart or mind. Office hours are held on Thursdays from 10 am to noon. Here's where you can find her over the next couple of weeks:
On Thursday, June 6th you can find her at Java Express, located at 15090 North Bluff Road in White Rock.
On Thursday, June 13th she'll be at McBurney's Coffee and Teahouse. McBurney's is located at 20504 Fraser Highway in Langley.
If these times don't work for you and you'd like to arrange for a one-on-one in-home visit, please contact her to set up a time. She sets aside Tuesday mornings typically for one-on-one in-home visits, but other times are available depending on schedules. Please feel free to call her at 604-323-4341.
Rev. Samaya will be away from Sunday, June 16th through to Saturday the 22nd to attend the UU Ministers' Association's Ministry Days, three days of professional development for UU ministers, followed by four days at the UUA's General Assembly in Spokane, WA. As usual, she is available in the case of emergencies and she will answer emails sporadically throughout the week.
As Rev. Samaya is our three-quarter time minister, she is available to take your calls on Monday, Tuesday, and Thursday from 10 am to 4 pm, as well as on Tuesday evenings to 9 pm. Emails will be responded to within 72 hours. If you need a response in less time than that, or in cases of emergencies, please feel free to call her.