Worship
We gently transform the Christian sanctuary at Sunnyside United Church with our chalice and banners. You will be greeted at the door with an order of service. The one hour service has the basic components of: Welcome, Announcements, Prelude, Chalice Lighting, Joys and Concerns, Sermon, and Chalice Extinguishing. Singing and musical selections are part of every worship. After service, SFUC hosts a coffee hour. We sit and have genuine, conversations with friends old and new.
In September 2019, we introduced a "Whole Service" practice. Children are invited to stay in the sanctuary rather than moving out to "Sunday School". We have incorporated age appropriate activity areas (craft area, writing table, toddler toys) where children and adults can be kinetically engaged while listening and participating in the service.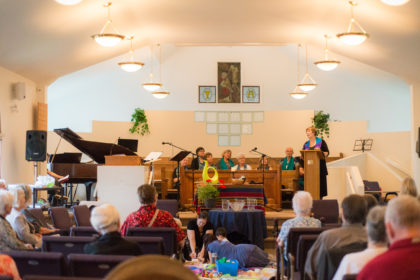 You are welcome at South Fraser Unitarian Congregation. We are embracing of spiritual practices, beliefs, welcoming of all genders and sexual orientations, and accessible to people of all abilities.