View the Monthly Theme Packet for Families | Download the full monthly theme packet [PDF]
Let's just say that we're skeptical about rushing in to fix things.
We Unitarian Universalists understand the urge to restore what once was. Nothing is more human. Who doesn't want to reverse the damage? Who doesn't hold on to the humpty dumpty hope that all can be put back together again? But our faith teaches us that this is just not how the world works. Transition and change rule the flow of life. There is no going back. The current of time is just too strong.
And so the wholeness offered us is not that returning our lives to their original state but working with what remains to make something new. The shards are not pieces of a puzzle that needs put perfectly back together, but building blocks waiting to be molded into a yet to be imagined form. To be made whole again is to be reorganized, not restored.
Another way to put this is to say that there is freedom in the breaking. The cracks make room for creativity. That's not to minimize the pain. And it's certainly not a way of justifying tragedy as "part of God's plan." Rather, it's a call for us to perceive the broken pieces of our lives as more than just a pile of worthless and ruined rubble. "Look closer," says our faith, "that ash, if worked with, can give birth to a Phoenix."
So, what piles of rubble in your life need revisited? What longing for what was needs let go so a new wholeness can emerge?
And how might you break open even further? Because that's part of this too, isn't it? "Your broken pieces are more than rubble" is not the only counterintuitive thing our faith tells us about wholeness. It also urges us to "Crack wider!"
As odd as it sounds, we were meant to be broken, broken open to be exact. Over and over again, our faith reminds us that protecting our personal wholeness is only half the game. The equally important part of life's journey is about letting in the wholeness of world!
It's about cultivating cracks on purpose. It's about becoming intentionally exposed. As Leonard Cohen famously put it "Cracks are how the light gets in."
Broken hearts hurt but they also let in and allow us to connect with the pain of others. Protected hearts may seem safe, but our armor only ends up being a prison. It's one of the most important but paradoxical spiritual truths there is: Broken people end up bigger people.So, in the end, maybe that's our most important "wholeness question": How are your cracks inviting you to become larger? What cracks do you need to cultivate on purpose?
Theme Packet for Families
Download a PDF of the Monthly Theme Packet on Trust for Families.
Books/Readings of Wholeness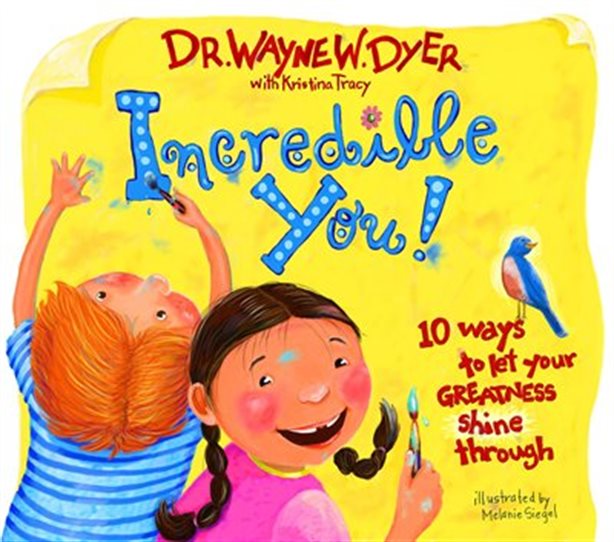 Incredible You! 10 Ways to let your greatness shine through by Dr. Wayne W. and Kristina Tracy
Dr Wayne W. Dyer has taken the 10 concepts from his book for adults "10 Secrets for Success & Inner Peace" and interpreted them for children, creating "Incredible You"!
Wayne believes that it's never too early for children to know that they're unique and powerful beings, and they have everything they need within themselves to create happy, successful lives. With this book, parents can introduce these important ideas to their children.
The ten concepts are numbered, titled and set in rhyming verse, and vibrant illustrations bring each point to life. At the end, there are questions that kids can answer to connect these ideas to their own lives, and make them realize how incredible they truly are.
The 10 Ways to Let Your Greatness Shine Through are:
Share the Good
Find What You Love
You are Filled with Love
Find a Quiet Place Inside
Make Today Great!
Change Your Thoughts to Good
Take Care of Yourself
Picture What You Want
Everyone Is Special, Especially You
Good Thoughts Give You Energy
Family Activity – Wholeness Egg Shell Mosaic
Colored and crushed eggshells glued on cardstock. Can they make a circle mandala of the eggshells representing wholeness?
Check out this video to find out how:
Family Video – Jesus Christ Superstar (G)
As we engage in the theme of wholeness, here's a movie to bring the theme of wholeness to life. Jesus realizes that it is only in death that his message will become whole, so check out this movie about the last week of his life.